International Hustlers at The Kraken Cardiff
O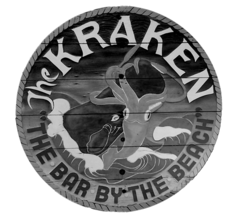 n Saturday September 12th, The International Hustlers will be performing at the legendary Kraken Cardiff. Known as 'The Bar By The Beach', The Kraken is located on the cliffs above the ocean on Highway 101.  Located at 2531 S Coast Hwy 101, Cardiff, CA 92007, it provides an amazing setting for live music.  The Kraken building was originally built in 1962 and was the original building Don "Hansen's Surf Shop", before its new location in Encinitas started in 1968. On May 1st, 1976 Doug Aldred of Detroit opened the doors of the Kraken, and has been at the helm of it's success since then.
The International Hustlers, hot off their successful gig as The Lafayette Hotel, Jazz 88.3 poolside series bring their signature sound to Cardiff by the Sea for the first time.  Performing in the group will be band staples Chris Duvall – bass, Ty Kieran – percussion and Paul Viani – Tenor Sax.  San Diego up and coming musician Hugo Suarez will make his debut with The Hustlers on Sat.  In demand drummer, Jake Najor, returns to propel the music with extremely funky drum beats.
Music starts at 3pm.
Copyright © 2015. C. Lougeay

---
Do you have anything you would like me to check out?  Leave a comment below and I'll try to feature it on the blog.  Please subscribe to my Youtube channel and thanks for reading.