International Hustlers at The Lafayette Pool
Live music in San Diego will be happening on Sunday August 30th.  Sponsored by Jazz Radio 88.3,  The International Hustlers will be doing a pool side side at The Historic Lafayette Hotel.   Lead by guitarist Chris Lougeay and featuring some of the most talented musicians southern California has to offer.   The music kicks off at 12 noon.  Make sure to bring your swimsuit if you are coming to party and prepare to get wet.   There will be a wet bar for all your adult beverage needs, and the Hope 46 kitchen serves up some fantastic food.
Driven my solid drum and bass grooves, the music of The International Hustlers has catchy melodies and interesting harmonies.  It a user friendly form of instrumental music that instantly catches any listener's ear. Connoisseurs of the soul jazz/ funk genre will recognize the influences of guitarist Grant Green, saxophonist and singer Fela Kuti, and Ohio saxophone legend Rusty Byrant to name but a few.

The International Hustlers are quickly becoming a household name in the San Diego music scene.  Having performed at live music staples like Winston's, and upcoming shows at The Kraken Cardiff on September 12th.   The most recent gig was at The Imperial beach Sun and Sea Festival.    The IB performance was attended by extreme sports television show, XCorps TV and The Hustlers will be featured on an upcoming episode.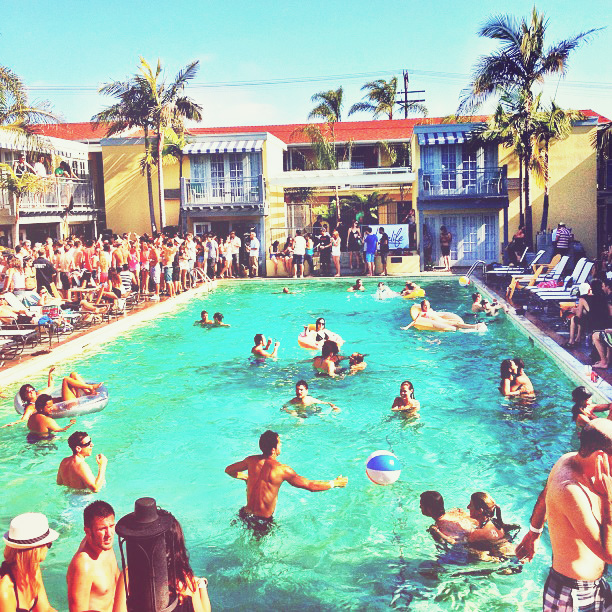 The Weismueller pool was home to the Hollywood elite in the golden age of film. Now restored to it's former glory, the luxurious setting is an awesome way to relax, drink, socialize and hear great the best live music San Diego has to offer.
Copyright © 2015. C. Lougeay

---
Do you have anything you would like me to check out?  Leave a comment below and I'll try to feature it on the blog.  Please subscribe to my Youtube channel and thanks for reading.